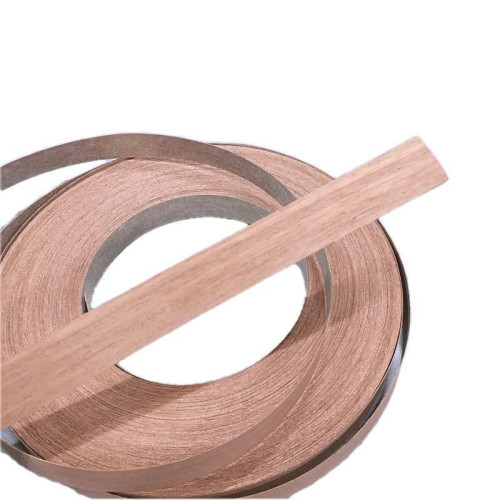  
Mahogany Sapelli edge band 50 mm
Mahogany Sapelli edge band 50 mm
Genuine Ashwood edge band.
These edge bands are sold by linear meters.
Width: 50 mm.
Thickness: 0.5 mm.
With fleece back and without glue or adhesive.
Mahogany Sapelli edge band 50 mm
Sizes:
Fixed Width, parallel edges.
Length: Sold by the linear meter.
Width: 50 mm.
Thickness: 0.5 mm.
Product Description:
These edge bands are made of genuine wood with a fleece back and without glue, adhesive, or finish. 
These Bands are clipped parallel.
Generally, edge bands cover the edges (sides) of panels such as MDF, Plywood, Particle boards, etc...
This way, once laminated with veneers on both faces and edge bands on four sides, the base material will no longer be seen, thus rendering the aspect of a solid wood panel.
Edge bands may also be used for furniture or door edges.
Edge bands are easy to glue, like face veneers, either with traditional white wood glue or neoprene glue.
For more tips and tricks, please click the following link TUTORIALS
The Species:
Common Names: Sapeli, Sapele, Sapelli Mahogany.
Botanic name: Entandrophragma cylindricum.
The Sapelli is an African species, and even if it's not a genuine Mahogany, it is part of the same family.
This Mahogany is a quarter-cut-stripy wood, giving the impression of successive contrasted dark and bright bands. 
Sapelli is a "classic" in bespoke guitar lutherie and is significantly appreciated in boatbuilding.
Packing:
Veneers are rolled and well protected in a strong carton chosen to resist somewhat vigorous handling and delivered to you in good condition.
Prices:
It is sold by the linear meter, decreasing prices upon quantity.
More info:
Should you need more info, please get in touch with us either by email or by telephone.
Please look at our TUTORIALS, and you might find some valuable tips.
Data sheet
Species

Mahogany

Thickness group

Standard