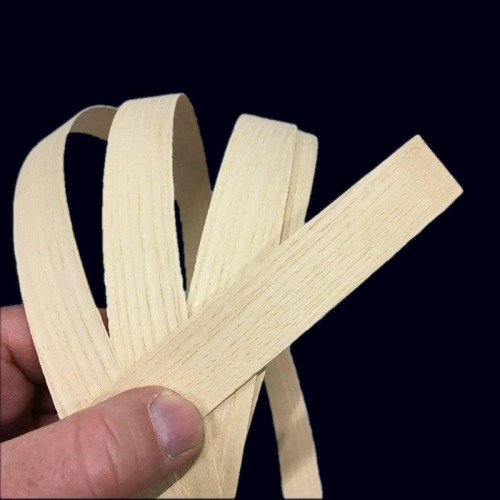  
White Ash edge band 25 mm
White Ash edge band 25 mm
Genuine Ashwood edge band.
These edge bands are sold by linear meters.
Width: 25 mm.
Thickness: 0.5 mm.
With fleece back and without glue or adhesive.
White Ash edge band 25 mm
Sizes:
Fixed Width, parallel edges.
Length: sold by linear meter.
Width: 25 mm.
Thickness: 0.5 mm.
Product Description:
These edge bands are made of genuine wood with a fleece back and without glue, adhesive, or finish. 
These Bands are clipped parallel.
Generally, edge bands cover the edges (sides) of panels such as MDF, Plywood, Particle boards, etc...
This way, once laminated with veneers on both faces and edge bands on four sides, the base material will no longer be seen, thus rendering the aspect of a solid wood panel.
Edge bands may also be used for furniture or door edges.
Edge bands are easy to glue, like face veneers, either with traditional white wood glue or neoprene glue.
For more tips and tricks, please click the following link TUTORIALS
The Species:
Botanic name: Fraxinus excelsior.
Commun names: Ash, European Ash, White Ash, Olive Ash.
The Ash is a light homogenous color hardwood, except for the Olive Ash, which is contrasted by brown lines.
It offers remarkable flexibility, justifying its use in various fields such as tool handles, Alpes skis, skateboards or surfboards, bows, and other sports accessories.
They were also used for armament wood, automobile, naval construction, and furniture.
It offers fascinating aesthetic and mechanical characteristics.
From a decoration point of view, Ash is ideal for an accent paint finish.
Packing:
Veneers are rolled and well protected in a strong carton chosen to resist somewhat vigorous handling and delivered to you in good condition.
Prices:
It is sold by the linear meter, decreasing prices upon quantity.
More info:
Should you need more info, please get in touch with us either by email or by telephone.
Please look at our TUTORIALS, and you might find some valuable tips.
Data sheet
Species

Ash

Thickness group

Standard