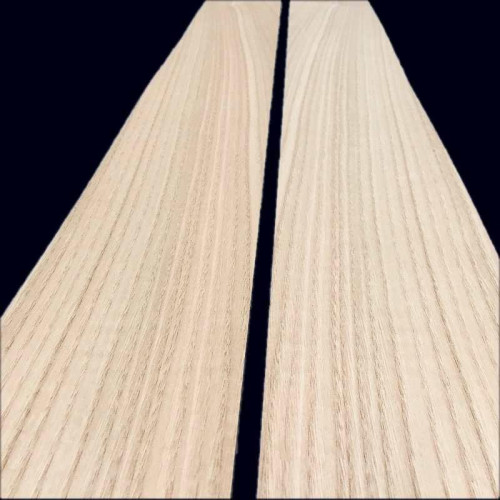  
Chestnut quarter-cut veneer 110 x 11 cm
Chestnut quarter-cut veneer 110 x 11 cm
Genuine wood sliced-veneer sheets.
Length: 110 cm.
Width: 11 cm.
Thickness: 0.55 mm.
Sold by the sheet.
Pictures herewith are photos of the product you will receive.
Chestnut quarter-cut veneer 110 x 11 cm
Genuine wood sliced-veneer sheets.
Dimensions:
Length: 110 cm.
Width: 11 cm.
Thickness: 0.55 mm.
Measurement scaling:
Dimensions are measured at the small end.
- Width rounded to the covered centimeter: 15.8 giving 15 cm.
- Length rounded to 5 centimeters: 257 giving 255 cm.
Species:
Common name: Chestnut.
Botanical Name: Castanea Sativa.
Origin: France.
Chestnut is a European wood mainly found on a wide strip from Portugal to Azerbaijan.
It is widely established in France for its high tannin content, fruit for food, and wood resistance to bad weather and insects.
It is used naturally for carpentry, joinery, and traditional furniture manufacturing.
Its color is similar to that of Oak, but its structure reminds Ash.
Product Description:
Genuine wood-sliced veneer sheets.
These veneers are raw without a finish or any fleece back.
The veneer surface is similar to plane wood. However, it will be preferable to forecast a light sanding after gluing.
The veneers are offered here as wood-sliced sheets of one and unique thickness.
Both faces of these veneers are the same, without fleece back or glue.
Even if the veneer's sides had been cut relatively straight, it isn't a precise parallel clipping; some veneers may have kept the decreasing shape of the tree, wider at the bottom end and narrower at the top end.
Very occasionally, some veneer's sides have traces of unclipped wane, but our veneers are measured at the narrowest, as explained in the paragraph "Dimensions."
As genuine natural wood, all finishing products are acceptable as long these products are meant to be for wood usage.
The choice of the finished product must be consistent with the final usage realization.
Pictures:
Pictures herewith are actual photos of the product you will receive.
For presentation, the veneer sheets may have been juxtaposed to give you a better idea of the final aspect after splicing; this is only a suggestion; display it as your wish.
Packing:
Veneers are rolled and well protected in a strong cardboard box chosen for resisting somewhat vigorous handling and delivered to you in good condition.
Prices:
Sold by the sheet, decreasing prices upon quantity.
More info:
Should you need more info, please get in touch with us either by e-mail or by telephone.
Look at our TUTORIALS, and you might find some valuable tips.
Data sheet
Species

Chestnut

Thickness group

Standard

Width group

Narrow width

Grade

Quarter-cut