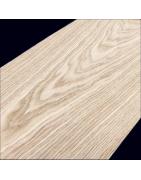 Half long veneers
Half-long genuine wood veneers.
Wood veneer sheets from 50 to 190 cm long.
These sliced veneers are ideal for covering a middle-sized realization, mainly 0.6 and 0.5 mm thick, but you may have some particular thicknesses, such as 0.3 and 0.9 mm.
For thicker veneers, please look at our thick veneers: THICK VENEERS.
Please use the species and dimensions filters on the left to help you to find the veneer you wish.