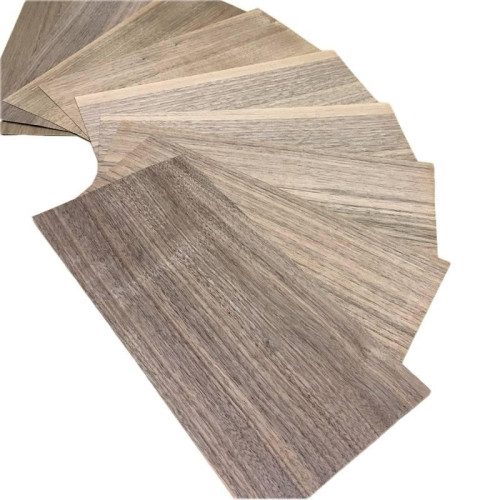  
American Walnut narrow width small-size veneer
American Walnut narrow width small-size veneer
Genuine wood veneer sheets.
Fix length of 30 cm long.
Width: From 10 to 14 cm.
Thickness: 0.5 mm.
Sold by the sheet.
American Walnut narrow width small-size veneer
Genuine wood-sliced veneer sheets.
Dimensions:
Fix length of 30 cm long.
Width: From 10 to 14 cm.
Thickness: 0.5 mm.
Sold by the sheet.
Measurement scaling:
Width rounded to the covered centimeter: 15.8 giving 15 cm.
Species:
Botanical Name: Juglans Nigra
Common names: American Walnut, US Walnut, and American Black Walnut.
This wood is appreciated for its color uniformity, fairly dark brown with delicate black veins.
In its raw state (un-varnished), its color is grey, which gives way to a more or less dark brown once varnished or oiled.
With the patina of time, its brown color will give way to orange honey. However, this orange honey can be obtained using blond walnut (Walnut sapwood) and a slightly orange-tinted finish.
Walnut is used to manufacture furniture, decoration, car dashboards, guitar making, and old radio sets.
Several specialties are particularly sought-after, such as its swirl, the root part of the trunk offering a very turbulent veining, or its burl shape, an outgrowth of hundreds of tiny knots.
Product Description:
Genuine wood-sliced veneer sheets.
These veneers are raw without a finish or any fleece back.
The veneer surface is similar to plane wood. However, it will be preferable to forecast a light sanding after gluing.
The veneers are offered here as wood-sliced sheets of one and unique thickness.
Both faces of these veneers are the same, without fleece back, without glue.
Even if the veneer's sides had been cut relatively straight, it isn't a precise parallel clipping; some veneers may have kept the decreasing shape of the tree, wider at the bottom end and narrower at the top end.
Very occasionally, some veneers' sides have traces of unclipped wane, but our veneers are measured at the narrowest, as explained in the paragraph "sizes."
As genuine natural wood, all finishing products are acceptable as long these products are meant to be for wood usage.
The choice of the finished product must be consistent with the final usage realization.
Photos:
To keep the cost of these products as cheap as possible and contrary to other veneers on this website, the pictures of Small Size Veneers do not represent the available stock.
More information:
Please look at our TUTORIALS; you might find some valuable tips.
Please contact us for any additional information by E-MAIL or phone.
Data sheet
Species

Walnut

Thickness group

Standard

Width group

Narrow width