Filter By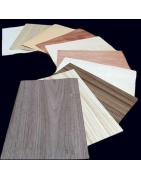 Small sizes veneer
Small-size genuine wood veneers.
These are genuine wood veneers with a fixed length of 30 cm.
Widths are the one nature given us:
From 8 to 13 cm for the narrow ones.
From 14 to 21 for standard widths.
Tag XXL for 22 cm and broader veneers.
Thicknesses are from 0.3 mm to 3 mm.
Please use the filters on the left side of your screen to find your small-size veneers upon more than one hundred references.
Showing 1-12 of 173 item(s)