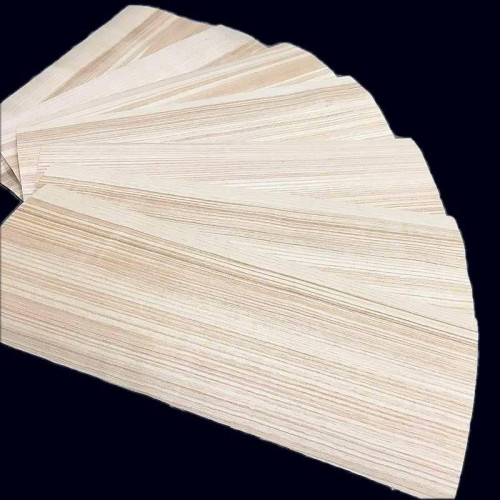  
Olive Ash 0.3 mm quarter-cut narrow small-size veneer
Olive Ash 0.3 mm quarter-cut narrow small-size veneer
Genuine wood veneer sheets.
Fix length of 30 cm long.
Width: From 10 to 15 cm.
Thickness: 0.3 mm.
Sold by the sheet.
Warning: Please read the complete description carefully.
Olive Ash quarter-cut narrow 0.3 mm small size veneer
Dimensions:
Fix length of 30 cm long.
Width: From 10 to 15 cm.
Thickness: 0.3 mm.
Sold by the sheet.
Measurement scaling:
Width rounded to the covered centimeter: 15.8 giving 15 cm.
Warning:
0.3mm is twice thinner than the standard 0.6 mm thickness.
This thickness is ideal for making complex wrapping or using its translucency in lampshade craft.
Species:
Botanic name: Fraxinus excelsior.
The Ash is a light homogenous color hardwood, except for the Olive Ash, which is contrasted by brown lines.
It offers remarkable flexibility, justifying its use in various fields such as tool handles, Alpes skis, skateboards or surfboards, bows, and other sports accessories.
They were also used for armament wood, automobile, naval construction, and furniture.
It offers fascinating aesthetic and mechanical characteristics.
From a decoration point of view, Ash is ideal for an accent paint finish.
Product Description:
Genuine wood-sliced veneer sheets.
These veneers are raw without a finish or any fleece back.
The veneer surface is similar to plane wood; however, it will be preferable to forecast a light sanding after gluing.
The veneers are offered here as wood-sliced sheets of one and unique thickness.
Both faces of these veneers are the same, without fleece back, without glue.
Even if the veneer's sides had been cut relatively straight, it isn't a precise parallel clipping, and some veneers may have kept the decreasing shape of the tree, wider at the bottom end and narrower at the top end.
Occasionally, some veneers' sides have unclipped wane traces, but our veneers are measured at the narrowest, as explained in the paragraph "Dimensions."
As genuine natural wood, all finishing products are acceptable as long these products are meant to be for wood usage.
The choice of the finished product must be consistent with the final usage realization.
Photos:
To keep the cost of these products as cheap as possible and contrary to other veneers on this website, the pictures of Small Size Veneers do not represent the available stock.
More information:
Please look at our TUTORIALS, and you might find some valuable tips.
Please contact us for any additional information by E-MAIL or phone.
Data sheet
Species

Ash

Thickness group

Thin thickness

Width group

Narrow width